What is mindfulness?
Mindfulness encourages paying attention to what is happening during each moment of your life. With mindfulness, we develop the ability to let go of worries and fears about the future, let go of concerns about the past, and experience the present moment with a sense of calm and curiosity. In a basic way, mindfulness gives us the ability to wake up to our life and stop the automatic way of living, which disconnects us from our body, mind, and relationships.

Why is mindfulness helpful?
When we stop during our day to practice mindful awareness, we often realize our mind and body are in completely different places. This mind/body disconnection is present during a lot of mundane tasks, including brushing our teeth, driving the car, and eating. In fact, if you pay attention to what your mind is doing right now you might notice a fair bit of wandering off and disconnection occurring. Indeed, observing the mind often results in recognizing that our mind is often somewhere else - worrying, making plans, remembering a past problem, or passing judgment. In this way, we live life more from a place of mindlessness than mindfulness. Living mindlessly robs us of the present moment and prevents us from enjoying some of the most enjoyable things about being alive. Learning to wake up to our life and pay attention with mindfulness represents a starting point for reducing stress and connecting our mind and body.
More Meditation Videos
What is this meditation thing all about?
Afternoon Mindfulness
Drop-in for a FREE 30-minute Meditation Session
Mondays & Thursdays @ 12:30 PM
**Resumes 1/7/19**
NO registration required, just drop by room 344 in the Student Services Building. Participants can attend as many times as they like so long as they are a student, faculty, or staff of the U.
Drop-in meditation sessions are led by a rotating group of facilitators who are clinicians of the UCC. Sessions are not conducted during semester breaks or university holidays. See our flyer for information.
5 Week Mindful Work/Life Balance Workshop
Fridays, beginning February 15th, @ 12:00 PM
This workshop for U faculty, staff, and graduate students is designed to expose participants to mindful strategies for balancing work-life stress. Come learn effective coping tools for navigating the responsibilities of different life roles as well as techniques for managing stress and anxiety. Workshop is $40 for staff/faculty and $20 for graduate students. All participants must register online to attend. See our flyer for information.
Feel Better Now: Learning how to Cope with Anxiety and Depression (FREE)
This 4-week workshop is currently being held in room 344 of the Student Services Building .
Spring 2019 Workshops:
Series 3: Wednesdays 3pm-4pm 2/20-3/6 (3-part series)
Series 4: Thursdays 11am-12am 2/21-3/7 (3 part series)
The workshop series includes a set of 4 modules that are covered over the course of 4 weeks. It is highly recommended that participants start attending the workshop at module 1, but the modules may be attended in any order, and may be repeated. Participants will learn a variety of effective and practical skills they can use to manage anxiety, decrease sadness, and increase focus. See this overview for more information about the content and the dates/times of each workshop. Feel Better Now is open to students of the U (including those not taking course credits over summer sessions), and students do not need to be UCC clients to attend. All participants must register online to attend.

How to practice mindfulness right now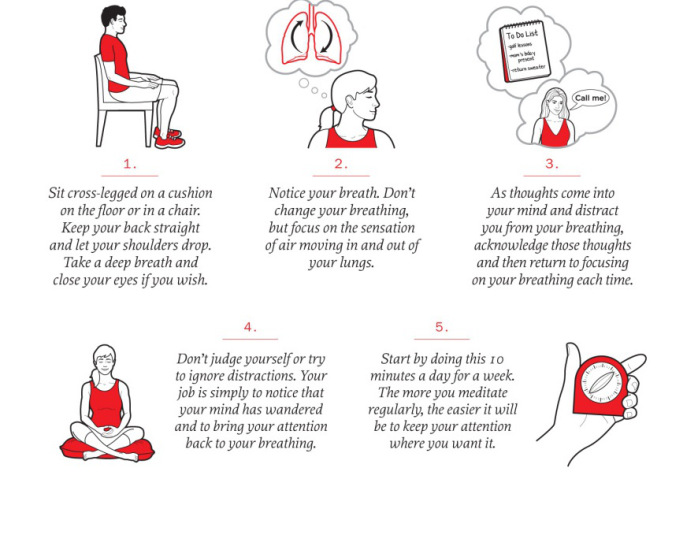 For Guided Meditations Click Here
For Free Mindfulness Apps Click Here