Congratulations to this year's winners!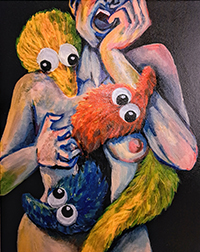 1st Place
Mors Smith for Let Them Out
Description
Burnout is painful. Getting help is scary, daunting, and sometimes makes you feel goofy. Why should I be struggling? Burnout creates a hole in your chest. Confronting the worms by seeking help makes you feel bare and vulnerable to those who might help or judge. Let them out, one worm at a time. Letting out a worm can be emotional, expressive, and difficult, but is a step towards healing your mind and body.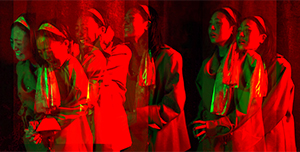 2nd Place
Minh Vuong for Shattered Mirage
Description
I was trying to show how people build up different identities to cope with social standards. The victim in my photo is slowly loosing her identity, but she cried and all of the sudden so do all her other identities. I want to convey that although it seems useless, crying and acknowledging your emotions maybe is the first step to cope with burn out?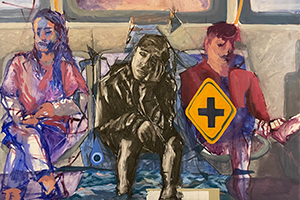 3rd Place
Diego Torres for Oblivious
Description
In the last few years, I feel like I've been stuck. Working a part-time job and being a full-time student has challenged me since the pandemic. Working long days in the studio, and long nights picking up extra shifts to pay for my education. My spare time is either spent sleeping or doing homework. I constantly feel at the end of my rope. I feel like my stress is noticed by others, but they choose to move along and not mention it. I feel as though I am a car without gas trying to dominate a hill, even though I have little energy left I can't stop pushing forward. If I stop now I feel that I will never start again.
About the showcase
The University of Utah Counseling Center invites all students to participate in the 1st Healing Art Showcase. Adapted from the University of UC Irvine Healing Arts program, this showcase exhibits artwork created by U of U students as a way of addressing mental health issues that can impact academic and personal functioning among students and decrease mental health stigma. In addition, we hope that the Healing Art Showcase can help students find commonality among a shared experience, validation in knowing you are not alone in dealing with this issue, along with inspiration and empowerment on how to cope with it.
About the theme
This year's theme is on the experience of managing burnout. Burnout is a common student experience that impacts most students at some point in their academic career. A systematic review in 2021 on the prevalence of burnout syndrome in university students showed estimates of 55.4% for emotional exhaustion, 31.6% for cynicism and 30.9% for academic efficacy. (Rosales-Ricardo Y. et.al. 2021).
Coping with burnout can occur in many ways, with some strategies being more adaptive than others. Maladaptive strategies usually end up causing more harm than good and may result in short or long term difficulties. Adaptive strategies allow the individual to manage the challenges of burnout in ways that are not detrimental to the person's overall wellbeing and help to realize academic and personal goals. For the purpose of this exhibit, we want to encourage you to share your experience of burnout through art, illustrating adaptive and maladaptive strategies that have helped you manage burnout.
Eligibility and entry information
All entries must be original works of art, created within the past 3 years and artists must identify as a current University of Utah student. All entries should come with a brief explanation of how the art piece represents managing burnout.
Process of entry
Fill out a separate entry form each piece of artwork (maximum of two) by Wednesday, January 25, 2023.
Make sure to include a photo of each piece of artwork with the form.
If you need special assistance in submitting your work, please contact Christina Kelly LeCluyse: cklecluyse@sa.utah.edu with the subject "Healing Art Showcase Entry".
Selected artwork must be delivered to the Counseling Center (SSB Rm. 426) by Friday, January 27, 2023

at 12pm (unless other arrangements are agreed upon between artist and Counseling Center).
Rules of entry
There is no entry fee.
A maximum of two submissions can be entered per participant.
Only two-dimensional work in the following media will be accepted at this time: Drawing, Painting, Photography, Printmaking, Collage and Computer-Generated Imagery
Size is limited to 36 inches in any direction, including frame.
Artwork will be displayed as-is. Please have the artwork framed or prepared as appropriate, and ready to be placed on an easel.
Artists must include measurements of each submission on the application form.
The Counseling Center is not responsible for lost, stolen, or misdirected entries.
The Counseling Center is not responsible for artwork being damaged; signs indicating to not touch the artwork will be placed around the exhibit, but it is not guaranteed that artwork will not be touched (e.g., not in protective casing).
Your entry acknowledges acceptance of the rules of entry.
Criteria and judging
The Healing Art Showcase will be held be on display in the Union lobby from Jan. 30 - Feb. 3, with judging taking place the last day of the showcase.
There will be three People's Choice Awards that will be chosen by the showcase attendees.
Each attendee will have the chance to vote for their top three favorite art submissions.
The top three art pieces will be awarded a cash prize of $200 for 1st place, $100 for 2nd place and $50 for 3rd place. Works will be selected on the basis of original concept, expressive use of media, artistic excellence, and representation of the theme of managing burnout.