Group Counseling
During this time, the University Counseling Center (UCC) will provide group counseling services remotely.

Current clients who would like to join group need to contact the UCC. For those who aren't clients, you must first have an intake which you can do by calling the UCC at 801-581-6826. Please note that telemental health can only be provided to individuals residing in Utah at the time of their appointment and only after completing a TMH group consent form.

Please consider utilizing the following resources. These resources are ideal because they are free and because you can use them over the phone, with your computer, or through text. Moreover, these services were developed and are provided by highly trained and compassionate therapists.
SafeUT App: 24/7, confidential, and always free
UNI Crisis Intervention, Hospital Diversion, and Warm Line Services
UNI crisis intervention and hospital diversion
Virtual Hope Box App - a multi-media coping skill app designed for individuals struggling with depression
Woebot: Your Self-Care Expert
If you have a smartphone, there are also various apps you can install. I find Insight Timer to be particularly helpful.

You can also connect with a Crisis Counselor at any time to receive free 24/7 support:
Text HOME to 741741 (US and Canada)

The UCC and I recognize this may be a difficult and confusing time. There are many things all of us can do to keep ourselves and others safe and healthy. Please refer to https://dps.utah.edu/coronavirus/ for more information about protecting your heath, combating the stigma associated with COVID-19, and the plans for resuming in-person classes. I will really miss meeting in person, and hope you each do what you need to in order to take care of yourselves.
Group is often the treatment of choice for the myriad of concerns facing us. The UCC offers a variety of groups in both time-limited and on-going formats.
LIST OF FALL GROUPS
The UCC provides several options including support groups, group therapy, and workshops. Unlike individual counseling at the UCC, there is no limit to the number of times you can come to group. For more in-depth information visit the Orientation to UCC Groups page. For information about online groups, please click here.
For more information please contact Gretchen Anstadt or call 801-581-6826.
Support groups
Support groups provide an atmosphere conducive to sharing your concerns with others whose lives are impacted by similar issues. The focus is on providing a space for validation, encouragement, and mutual understanding. Support groups do not emphasize dynamics occurring between members, nor do they emphasize change. Support Groups Registration
Therapy, psychoeducational and interpersonal process groups
'
'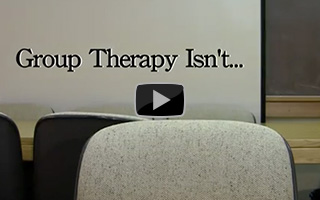 These types of groups go beyond providing a space for sharing feedback and support. They allow participants to gain multiple perspectives, practice skills, try out new behaviors, and learn how to have more satisfying relationships. Interpersonal dynamics occurring between members may be emphasized, often leading to enhanced personal growth. A significant benefit of group therapy includes not feeling as alone since others in the group will likely have experienced similar concerns. Research shows that group therapy is one of the most effective and efficient tools for addressing concerns common to people seeking UCC services.
Most participants, though somewhat apprehensive at first, report that the group experience was helpful far beyond their expectations.
If you identify with any of the points on the checklist below, group therapy may be the ideal option!
Groups Personal Checklist
Group Therapy and Common Myths
"I am scared group members will talk about what I said outside the group."

Each group member agrees to the confidentiality of the information shared in the group prior to joining the group. What is said in groups must remain among the members of the group in order for all members to feel safe and trusting in the group. It is not appropriate for a group member to disclose events of the group to an outside person or other group members outside of group meetings. While the group leaders cannot guarantee that members will maintain confidentiality outside the group, this is thoroughly discussed and agreed upon with each member prior to joining the group.



"Group therapy will take longer because I will have to share the time with others."

Actually, group therapy is often more efficient than individual therapy for two reasons. First, you can benefit from the group by listening carefully to others and their experiences. You will find that you have much in common with other group members, and, as they work on a concern, you can learn more about yourself. Secondly, group members will often bring up issues that strike a chord with you, but that you might not have been aware of or brought up yourself.



"Group therapy is second-best to individual therapy."

Group therapy offers many benefits that are not as available with individual therapy. One reason for this is that groups are composed of various personalities, experiences, and coping strategies. The strengths of each individual group member can serve as a model for other group members who are still learning about those skills and strengths.

In everyday life it is often difficult to get useful and reliable information about yourself from others. People seldom take the time to carefully observe others as well as themselves, and the social constraints against giving others honest feedback inhibits the sharing of observations that could be helpful and instructive. By contrast, group members do take the time to observe and share impressions in honest and caring ways.



"I have so much trouble talking to people; I'll never be able to share in a group."

Most people are anxious about being able to talk in group. Almost without exception, within a few sessions people find that they do begin to talk in the group. The other group members understand what it is like to be new to the group, so you will most likely get a lot of support for beginning to talk in the group, particularly from the group leaders.

"I will be forced to tell all of my deepest thoughts, feelings and secrets to the group."

Just like in individual therapy, you control what, how much, and when you share with the group. Most people find that when they feel safe enough to share what is troubling them, a group can be very helpful and affirming. Group members and leaders may invite you to share your fear of opening up to the group, but will also respect your decision not to share. We encourage you only to disclose what you are comfortable discussing. However, you can also be helped by listening to others and reflecting on how what they've shared may apply to you as well. As the group continues to develop and build safety, most people find themselves more comfortable to communicate openly.



"I am afraid I will be judged or criticized by the leaders or other group members."

It is very important that members feel safe in the group. Group leaders are there to help develop a safe environment and will work to maintain a constructive and caring atmosphere. We understand that feedback from others may at times be difficult to hear. A benefit of group therapy is receiving feedback from others who are trying to help, while also having a trained group leader present to facilitate the conversation. Group may be one of the only places in which you can receive honest and supportive feedback about how you might be behaving in ways that are hurtful to yourself or others. Group leaders will help members give feedback in a way that is respectful, thoughtful, and constructive.
Many thanks to the University of San Diego Counseling Center for permission to use and adapt their group information website.
---
Workshops
For people interested in learning and/or practicing skills to help with managing anxiety, decreasing sadness & improving focus, please check the Mindfulness Clinic.