Classes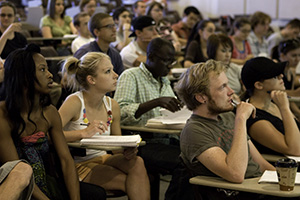 The University Counseling Center offers several classes each semester bearing 2 to 3 credit hours. Classes are listed under Educational Psychology in the Class Schedule.
Multicultural Issues
ED PS 3010 (3 credit hours)
This course introduces students to multicultural issues involved in human interactions. Emphasis is placed upon understanding the role the cultural environment plays in the lives of people and the implications of that role upon the self and others. Help student
Strategies for College Success
ED PS 2600 (3 credit hours)
Designed to encourage academic success. Students are given the opportunity to learn different techniques to develop a personalized system of learning. In addition to academic skills (including time-management, note-taking, test-taking), instructors focus on helping students clarify goals and values, increase their skills as critical and active thinkers, and become familiar with the many aspects of University culture and resources.
Career Services Internship Program
ED PS 3960-78, 3960-79 (variable credit)
Staff of the Counseling Center and Career Services collaborate to offer Internships involving work experience and on-the-job learning related to academic majors and careers. Visit Jobs and Internships for detailed information about this program.